Most of the applications of Spatial Audio have so far been focused on Music, Entertainment and Gaming. With this release Portal becomes the world's first major app to harness the immersive power of Spatial Audio for Health & Wellbeing.
Spatial Audio for Ambience & Wellbeing
An Exciting New Use Case
Our surroundings have a huge impact on how we think and how we feel but we often don't have much control over the places where we spend most of our time - something that's become especially true of late during lockdowns and the pandemic.
For the past few years Portal has been pioneering immersive ambience & virtual surroundings - harnessing the power of immersive technologies to not only instantly transform people's existing surroundings but to recreate the feeling of being in the midst of the world's greatest locations, creating the ideal environments for focus, sleep or relaxation.
Spatial Audio takes this experience to a whole new level for a much more realistic and true-to-life reproduction of real-world sound than has been possible before.
"Our dream is to deliver an experience that truly makes you feel like you're there in the midst of some of the world's most peaceful and awe-inspiring locations - Spatial Audio is the next step towards making that dream a reality."

Nick Daniels, Founder, Portal
It not only supports 3D externalisation so that sounds appear to come from outside of your head, but with dynamic head tracking built into the latest AirPods Pro, AirPods Max & AirPods 3 you can turn your head within a soundscape and have the scene appear to remain fixed in place around you, just like in real life.
"To say we're excited about this release is a bit of an understatement, Spatial Audio truly comes into its own with ambient sound as it better reflects how we actually hear our surroundings in real life and allows us to really sell the feeling of 'being there'."

Nick Daniels, Founder, Portal
Optimising Spatial Audio for Ambience
Ambisonics vs Dolby Atmos
Dolby Atmos is the default Spatial audio format on iOS and while it has been well suited for music and film we found it didn't work so well for our specific ambition of achieving an experience that's as true-to-life as possible through headphones, especially when it came to outdoor locations.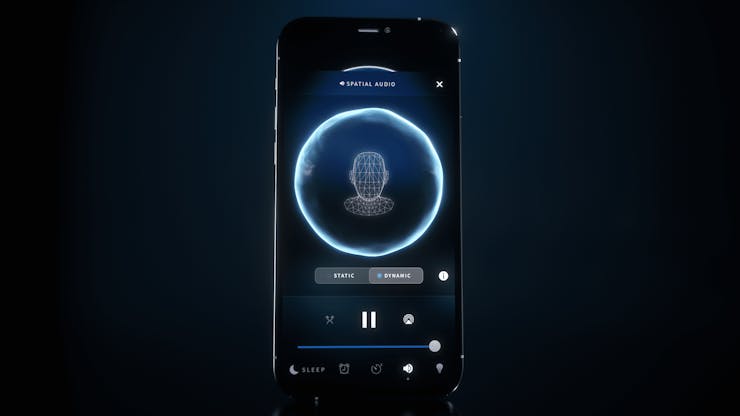 One of the problems is that Dolby Atmos uses a mixture of channel and object based audio and when rendered through headphones a room reverb is applied to those channels and objects to create the sense of externalisation. This works well for cinema and music - it makes you feel like you're immersed in a real cinema or studio, but for pure ambience where the ambition is realism, this extra layer of reverb can induce colouration and be enough to ruin the illusion.
Instead we partnered with atmoky, one of the world's leading Spatial Audio Software providers to implement dynamically rendered Spatial Audio based on 3rd order Ambisonics - the same format that's often used for VR.
Ambisonics is a full-sphere surround sound format that represents the entire spherical sound scene as a whole rather than using channels or objects like traditional surround sound formats. This allows us to recreate soundscapes and ambience with much more precision and fidelity, especially when experienced through headphones as ambisonics can be rendered directly to headphones without requiring additional reverb to be applied for externalisation.
atmoky's perceptually-optimised rendering engine is the stand-out solution for that and is fully aligned with Portal's vision of true-to-life experiences.
Beyond the technology we've also worked with some of the world's greatest Spatial Audio field recordists to ensure our soundscapes are the most immersive and realistic possible.
"It's been a real labour of love developing this experience that's as true-to-life as you can currently get with existing technology and production techniques and we can't wait to push the technology even further in the future."

Nick Daniels, Founder, Portal
About Portal
An award-winning indie app inspired by a life-changing experience
It took an episode of depression followed by a life-changing camping trip in the wilds of New Zealand to truly open Nick's eyes (Portal's Founder) to the incredible effect and power of our surroundings.
It's an insight that led to a simple thought - what if we could bottle up the essence of the world's greatest locations and make them accessible to anyone, anywhere, anytime?
And this is exactly what Portal does.
We're pioneering a new approach to digital wellbeing by focusing on how our physical surroundings affect our health & wellbeing and how we can use immersive technologies (combining immersive sound, visuals and smart lighting) to virtually transform existing surroundings to help improve focus, sleep, relaxation & more.
As a company we're a close-knit bootstrapped indie team of 4 friends (including 2 brothers), brought together by a shared dream to create technology & experiences that improve people's daily lives.
There aren't many teams that can say they climb actual mountains for their customers, but we do it as part of our approach of crafting every aspect of the experience ourselves - from capturing immersive ambience in the field to the award-winning design and technical development of the app itself.
What we lack in size we make up for with passion and we're incredibly proud of what we've built so far...and there's so much more to come :)
Availability & Pricing
Static Spatial Audio is supported across Portal's entire library of content.
Dynamic Spatial Audio is available on select Portals with Portal Premium & requires AirPods Pro or AirPods Max.
Portal - Immersive Escapes is available for iPhone & iPad and can be downloaded for FREE from the App Store.
Portal Premium offers our best and most immersive experience with unlimited access to our entire content library, smart lighting integration and now dynamic spatial audio support.
Available as a monthly subscription (GBP£6.99/USD$9.99), annual subscription (GBP£34.99/USD$49.99) or lifetime purchase (GBP£219.99/USD$249.99).
Rated 4.8 on App Store.
Portal has been featured as Apple's "App of the Day" across 150+ countries, including the US, UK, Canada, Russia & Australia as well as being selected as a Retail Demo App within physical Apple Stores. Portal has also been featured as "Best Sleep App" and a "Best Mindfulness App" by the Independent (UK), "Apps We Love" by Nanoleaf and "Apps We Like" by Philips Hue. Portal won a Webby Award in 2020 for "Best Visual Design - Function".
Press Contact
For any questions or to request a promo code email us at info@portal.app. Our Press Kit can be found at the bottom of our website.